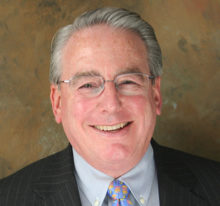 We are deeply saddened by the passing of our dear friend and colleague, Alan Mendelson.
Our sincere condolences go out to his family and many friends. For years, Alan was a tireless champion of higher education in California. After earning his bachelor's degree from UC Berkeley and his law degree from Harvard Law School, he became one of America's premier lawyers. He was widely recognized as one of the most respected and experienced lawyers in the life science industry. He also made time to serve his beloved alma mater in numerous ways, including through his service as a Regent of the University of California, President of the Cal Alumni Association, Board Member of UC Berkeley's College of Chemistry and the UC Berkeley Library, and as a Member of the Chancellor's External Affairs Committee and Innovation Council.
We're going to deeply miss Alan's advice and counsel, his keen intellect, and his sharp sense of humor. Most of all, we will miss his unwavering commitment both to his alma mater and to public higher education. We are dedicated to honoring his legacy by working to further strengthen the best public higher education system in the world.
– Dick Ackerman & Mel Levine, Co-Chairs of the California Coalition for Public Higher Education